Beginner's Guide to Crochet Hooks
Crochet begins with yarn and one very important tool: the crochet hook. Read on to find out all about crochet hooks and how to choose the best one for you.
What is a crochet hook?
A crochet hook is the tool that is used to create crochet stitches with yarn and other fibers. The hook at the end of a shaft is used to pull yarn into loops and knotted stitches. 
What are the parts of a crochet hook?
A crochet hook consists of five basic parts: the handle, thumb rest, shaft (the part that holds the working loops of yarn), the throat (the part that catches the yarn while making a stitch), and the head.
What materials are crochet hooks made of?
Crochet hooks are usually made of aluminum or plastic, although hooks made from wood or other interesting materials are also available. Aluminum has the advantage of being very lightweight and durable. Aluminum and plastic hooks are easy to find at most craft stores and are usually very affordable, costing just a few dollars.  
Most crocheters find that aluminum or other metal hooks allow them to crochet more quickly, since the smoother surface allows the yarn to slide more freely. Wood or plastic have a little more friction and slow down the process somewhat (beginners may find this helpful).
Steel crochet hooks come in smaller sizes than regular hooks and are used for working with very fine yarn or thread. The steel makes the hook strong enough to resist bending or snapping when working with the tighter tension required for those projects. 
Many crocheters love the experience of using the handcrafted and more artistically designed hooks that are available. (One very popular brand is Furls. WeCrochet also has some beautiful wooden hooks in lovely colors.)  
What sizes do crochet hooks come in?
A crochet hook is usually about 6 inches long, but the size of a hook is determined by the diameter of the shaft.
Crochet hooks come in sizes as small as 0.6 millimeters and up to 35 millimeters or more in diameter. The larger the hook, the bigger the stitches and the finished project.
What are the most common crochet hook sizes?
Medium sized crochet hooks in sizes 5 mm to 6.5 mm are the most widely used hook sizes for many crochet projects. A medium size hook is also a great place to start for beginners, along with medium or worsted weight yarn. 
What is the largest crochet hook size?
The biggest crochet hooks that are mass produced by big name manufacturers typically are 35 mm at the largest. You can find more jumbo and even giant sizes in hooks that are hand made or 3-D printed. These beautiful hooks, for instance, come in up to 50 mm. 
(The largest crochet hook ever, according to Guinness World Records, is 2.77 m (9 ft 1 in) with a diameter of 11 cm (4.3 in).)
Does crochet hook size matter? 
The size of the hook you will use depends on what type of yarn you have chosen for your crochet project. A hook that is too small will create stitches that are too tight and hard to work with. A hook that is too large will make oversized stitches that may stretch too much in the finished project.
A crochet hook that is the wrong size may result in a finished project that is much smaller or bigger than intended! A good way to check if you have the right hook for the job is to make a gauge swatch. 
How do I know what size my crochet hook is? 
Hooks are usually labelled with the size in millimeters, and may also be labeled with a traditional sizing system. The traditional sizing systems of the US and the UK consist of a letter or number. For instance, a 6 mm crochet hook is also called a "J" hook in the US. 
Sign up to the newsletter for a free, printable crochet hook size chart PDF!   
If the hook doesn't have the size labelled on it, you can use a crochet hook size tool to determine the size.
What size crochet hook should I use?
More lightweight and thinner yarn (fingering, sport, or DK) will call for a smaller hook, between 2.25 mm – 4.5 mm.
Medium weight yarn (worsted weight, or Aran) will be best suited for medium sized hooks from 5 mm – 6.5 mm. 
Heavier yarn like Bulky or Chunky weight will need hooks from 6.5 mm – 9 mm. When using Super Bulky yarn, pick a hook in size 9 mm – 15 mm. Jumbo novelty yarn will call for crochet hooks in size 15 mm or larger.  
Check the label on your yarn for the suggested size hook, as well.
Different kinds of crochet hooks
Other kinds of hooks that can be used for different techniques and effects are available. These include Tunisian crochet hooks, double ended hooks, and ergonomically designed hooks.
Inline and tapered crochet hooks 
The distinction between the two comes down to the shape of the "throat" of the hook. An inline hook is the same diameter from the shaft to the throat of the hook, while a tapered crochet hook will narrow in width from the shaft to the throat.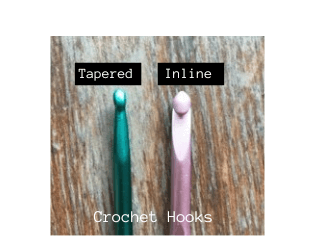 In addition, an inline hook will tend to have a deeper mouth (the curved groove that catches the yarn) and pointier tip, but a tapered hook will tend to have a shallower mouth and smoother tip.
A popular brand of tapered crochet hooks is Boye; another popular brand known for its inline hooks is Susan Bates. Both are easy to find in craft stores and online. 
Tunisian crochet hooks
Tunisian crochet is similar to regular crochet in many ways: both techniques work by wrapping yarn around a hook and pulling up loops to make stitches. An important difference: in regular crochet, each stitch is completed one at a time, while in Tunisian crochet, stitches are made by making the first part of the stitch and holding it on the shaft of the hook in the first pass of the row, then completing each stitch and removing it from the hook on a return row. 
To create Tunisian crochet, you will need a special Tunisian crochet hook, sometimes called an Afghan hook.
In order to hold all the stitches of a row at once, Tunisian hooks are much longer than regular hooks: typically about 12 inches long. Some hooks come with an attached cord or cable with a stopper on the end, which may be up to 32 inches long. 
Another kind of hook used for Tunisian crochet is the double ended crochet hook. The double ended hook is used to make Tunisian crochet in the round. 
Ergonomically designed crochet hooks
An ergonomic crochet hook is a crochet hook that is designed for the comfort and hand health of a crocheter. Crocheters usually choose ergonomic hooks to relieve wrist pain and fatigue, which helps them to crochet for longer and with more enjoyment. 
Ergonomic hooks are usually made with a special grip that is larger than a regular hook's. The grip or handle may have a special shape and/or be made of a softer material than the rest of the hook.  
Steel crochet hooks
Steel crochet hooks have a very small diameter for working with very fine yarn or crochet thread. They are made of steel for extra strength to resist bending under the higher tension that must be used when crocheting with very fine thread. 
Crochet hook alternatives and substitutes
What can I use instead of a crochet hook?
Hand or arm crocheting, along with arm knitting, is becoming more popular as very large novelty yarns like bulky or jumbo size become more available. This is a fun way to make oversize blankets and home decor with some interesting materials!
In a real pinch, you could bend a paper clip to form a makeshift crochet hook. And it's not without a kind of historical precedent — makers of crochet lace in Ireland in the nineteenth and early twentieth centuries sometimes made    hooks out of wire pressed into a handle made of wood or cork.   
Or if you are the very crafty type, you may want to make your own crochet hook.  
What type of crochet hook is best for you?
I personally have changed my preferred style of hook over the years. As a child, my grandmother taught me to crochet with tapered hooks. When I returned to crochet after a long hiatus, I found that as a re-beginner it was easier to crochet using inline hooks (it makes it easier to grab the yarn when pulling up a loop, as well as making it easier to keep loops at the correct size for more uniform stitches).  After some time getting reacquainted with crochet, I find that I can use both styles of hooks without issue, although I  still have a slight preference for inline hooks.
I also use options with soft ergonomic handles when I am using a smaller size hook to reduce hand fatigue. 
I recommend experimenting with different hooks before settling on a certain kind. Not all brands of hooks are exactly the same, even if they are the same general type. There are dozens of variations of style and materials to choose from. And your preference may change over time! The best hook for you depends on your level of experience, your style of holding the hook (grip), and finding the hook that allows you to crochet without pain or fatigue.
This page may contain affiliate links. When you click on and/or make a purchase through an affiliate link, I may receive a small commission at no additional cost to you. Thank you for your support!